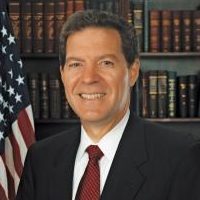 Hon. Sam Brownback, JD
Former Kansas Senator & Governor
Biography
Sam Brownback was born in Garnett, Kansas in 1956. He quickly learned the value of hard work, responsibility and family at a young age while working with his sister and brothers on their family farm near Parker, Kansas. He began his career in leadership when he was elected state president of the Future Farmers of America, and then the national vice-president of the FFA.
Brownback attended Kansas State University, where he earned a bachelor's of science in agricultural economics. He then attended the University of Kansas Law School where he obtained his Juris Doctorate in 1982.
Four years later, Brownback became the youngest secretary of the Kansas Department of Agriculture in state history. He strove to protect the interest of farmers, promote market expansion and foster new technological farming improvements. Brownback also served as a White House Fellow in the George H. W. Bush Administration. In 1994, Brownback was elected to the U.S. House of Representatives. Two years later, he won a seat in the U.S. Senate.
Brownback returned to Kansas where he was elected governor. In his second term, Brownback committed to growing the Kansas economy by alleviating the income tax burden on all Kansans, continuing investments in K-12 education and equipping struggling Kansans with the work training needed to break the cycle of generational poverty.
On January 24, 2018, Brownback was confirmed to serve as the U.S ambassador at-large for international religious freedom. He resigned as governor of Kansas on January 31, 2018.
Brownback and his wife, Mary, have five children.