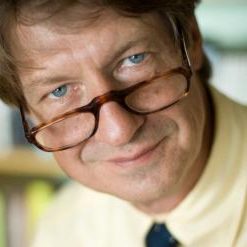 P.J. O'Rourke
Author & Political Satirist
Biography
With more than a million words of trenchant journalism under his byline and more citations in The Penguin Dictionary of Humorous Quotations than any living writer, O'Rourke has established himself as America's premier political satirist. Both TIME and The Wall Street Journal have labeled him "the funniest writer in America." He is the best-selling author of 20 books, including Parliament of Whores, Republican Party Reptile, Holidays in Hell, Eat the Rich, Don't Vote—It Just Encourages the Bastards, Thrown Under the Omnibus, and How the Hell Did This Happen? The Election of 2016. O'Rourke's latest book, None of My Business: P.J. Explains Money, Baking, Debt, Equity, Assets, Liabilities, and Why He's Not Rich and Neither Are You was published in September 2018.
He is a contributing editor at the Weekly Standard, H. L. Mencken Research Fellow at the Cato Institute, a regular panelist on NPR's Wait Wait . . . Don't Tell Me, and editor-in-chief of the web magazine American Consequences.
Born in Toledo, Ohio, O'Rourke received a BA from Miami University and an MA in English from Johns Hopkins, where he was a Woodrow Wilson Fellow. After graduate school he worked at small newspapers in Baltimore and New York.
In the early 1970s he joined The National Lampoon, where he eventually became editor-in-chief and created (with Doug Kenney) the classic 1964 High School Yearbook Parody. Concluding in the 1980s that the real world was funnier than anything National Lampoon's writers could make up, he became a foreign correspondent and has since covered crises and conflicts in more than 40 countries.
O'Rourke has written for such diverse publications as The Wall Street Journal, World Affairs, Car and Driver, Town & Country, Forbes, The Atlantic, and Rolling Stone, where he was the foreign-affairs desk chief for 15 years.
He lives in rural New England, as far away from the things he writes about as he can get.