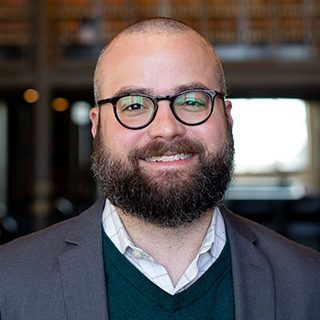 Eric Kohn
The Acton Institute
Biography
Eric Kohn is director of communications at the Acton Institute. In that role, he works to bring Acton's vision of a free and virtuous society characterized by individual liberty and sustained by religious principles to a wider audience.
Prior to joining Acton, Eric was director of community management at the Illinois Policy Institute, one of the nation's premier state-based think tanks. He was also the founder and CEO of Curious Task Strategies, a public affairs consulting firm. Eric is the leader of the Chicago chapter of America's Future Foundation, an organization dedicated to developing the next generation of classical liberal leaders in Chicago.
Along with Joe Kaiser, Eric hosts Sources with Knowledge, which airs Sundays at 3 pm on News/Talk 560 The Answer in Chicago and is available on numerous podcast feeds. He previously hosted The Eric Kohn Program on 1530-AM WJJG and has guest-hosted the nationally syndicated The Guy Benson Show, Illinois Watchdog Radio on Cities 92.9FM in Bloomington-Normal, and Chicago's Morning Answer on News/Talk 560 The Answer. He has appeared as a commentator on Beyond the Beltway with Bruce DuMont, Extension 720 with Milt Rosenberg, The Michael Koolidge Show, WTTW's Chicago Tonight, and numerous news broadcasts in the Chicagoland area. Eric's writings have appeared in The Chicago Sun-Times, the Belleville News-Democrat, and other publications.
Eric grew up in Belleville, IL., and is a graduate of Millikin University in Decatur, IL.