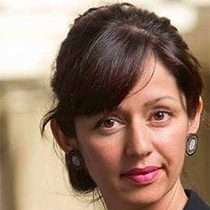 Amelia Miazad
Berkley Law
Biography
Amelia Miazad is an expert in sustainable capitalism and founded and leads the Business in Society Institute at Berkeley Law. The Institute's mission is to define and advance a legal and policy agenda that encourages companies to account for stakeholders and the environment.
Amelia teaches several courses at the intersection of stakeholder capitalism and corporate governance including: Introduction to Sustainable Capitalism & ESG, Business in Society Seminar, Corporations in Crisis, Social Enterprise Law, and Business and Human Rights. In addition to her in-residence teaching at Berkeley Law, Amelia has designed and teaches several executive education courses for C-Suite executives and board members around the world.
Amelia's recent publications explore stakeholder governance and ESG (environmental, social, and governance) as a process for overseeing risk and a powerful tool for transforming corporate culture.
Amelia's curriculum and scholarship rely heavily on input from experts who are implementing environmental and social considerations into their business and investment practices. She regularly presents to audiences of corporate executives in the US, South America, and Europe.